By: Yusef Cichy-Parker
At Comcast, diversity and inclusion is not just a one-time initiative or program with an expiration date. It is ingrained in our corporate culture.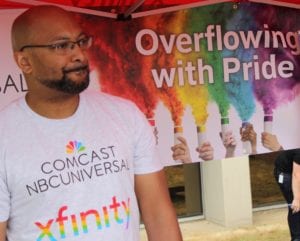 As we celebrate Pride Month, I can say with pride that I'm currently serving as leader of OUT@Comcast in Oregon/SW Washington.
Launched in 2015, the OUT@Comcast employee resource group is a volunteer organization open to all employees. Our goal is to become best-in-class for LGBTQ inclusion among our employees, customers, and community. OUT provides networking opportunities, learning and speaker series, access to senior leadership and meaningful volunteer opportunities to our LGBTQ and straight ally members, operating on the principle that "You don't have to be to belong."
OUT contributes to an LGBTQ aware and inclusive culture and supports Comcast's goal of attracting, developing, retaining, and engaging diverse talent. A diverse and open workplace leads to an increase in creativity, innovation, and collaboration, which foster our leadership at the nexus of technology and entertainment.
With a spirit of volunteerism and service throughout the Comcast, our 2,000 local employees dedicate more than 10,000 volunteer hours a year to community organizations.  And as an organization, Comcast donates more than $3 million in cash and in-kind contributions right here in Oregon and SW Washington.  After all, this is our home too, and we're proud to help make change happen.
I believe PRIDE is the manifestation of the LGBTQ community's inherent existence and a tool of empowerment to increase our visibility; a celebration of diversity and inclusion.
Look for us at the Portland Pride Parade on Sunday, June 17th.  Or better yet, march in the parade with us!