Who doesn't love a heartwarming holiday story? We know our Comcast Beyond School Walls mentors, or "Bigs," especially do. This week, they got to surprise their 20 third-grade "Littles" with iPads for the holidays. Nothing tugs at the heartstrings like seeing a child smile from ear to ear—especially during this time of year.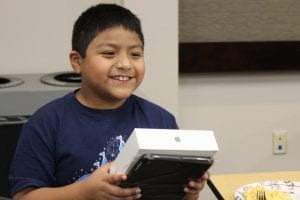 When Angie Ellis's "Little," Daniel, opened his gift, he literally jumped for joy with eyes wide and full of excitement.
And the feeling was mutual. "Simply put, I felt pure happiness," said Ellis. "To see the look on his face, to see him receive such an amazing gift, to work for a company that could be so generous… I felt such immense delight."
In partnership with Big Brothers Big Sisters Columbia Northwest, students from William Walker Elementary meet with our volunteer mentors Beyond School Walls at Comcast offices. The students visit twice a month during the school year for real-life workplace experience,  digital literacy training, and one-to-one mentoring with listening ears and open hearts.
We're excited for regrouping in 2020 to enjoy activities together and especially to explore the digital world on their new devices. Tablets and other devices aren't just for fun and games any more (although they can be that, too!) They're sometimes necessary to stay in step with classmates, access school resources online, and research projects. We always strive to impact the lives of students—but it's not every day we're able to gift kids life-changing technology. We're truly grateful to have the opportunity to do so, and we can't wait to see the world of possibilities that opens up for our "Littles." With this group of bright, talented young kids, we have a feeling it's going to be a success story.