When wildfires tore through the McKenzie River Valley just outside Springfield this fall, the communities along the river were devastated.  Today, as the residents try to rebuild their lives and their homes, they can thank Comcast – along with a huge roster of other volunteers, businesses, non-profits, and government entities – for literally clearing the way to restore some communications to the area.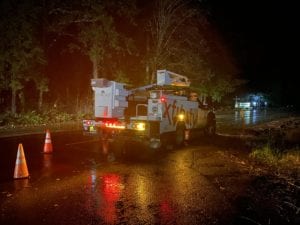 Thanks to Comcast maintenance technician Mike White, kids in the affected area can now do their remote learning from community centers, churches, parking lots, and even in a heated tent erected behind the grocery store.  And adults can do adult things like check on the progress of their insurance claims.
"I went through three sets of rain gear," said White of his 13-hour day.  "I have friends and family up the McKenzie," he added.  "Being able to help the kids up there get internet access for their schooling was the real driver for me."
When White called in to his supervisor, Dave Tishmack, to let him know the restoration project – which required cutting Century Link's fiber (with their approval) and splicing a new line – was taking longer than expected, the answer he received from Tishmack was, "It's for a good cause.  Just keep going."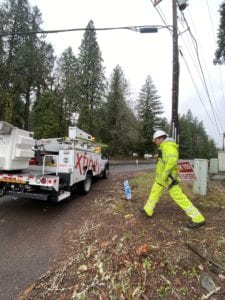 Portland businessman Geoff Turner, CEO of Elevate Tech Group is part of an ad-hoc group of IT professionals called the Oregon Internet Response group who took on the unpaid – and daunting – task of restoring communications to the valley residents. In a post on LinkedIn he said:
Over the last few months I've been a part of the temporary communications restoration in the McKenzie Valley area after the Holiday Farm Fire destroyed 27+/- miles of fiber feeding this community.

I want to shout out to Comcast for helping a community in need. In short, the local providers were busy working on restoration of service, which is still a ways out. We reached out to the local team at Comcast and they quickly sent a fiber trailer and bucket truck loaded with one of their most important assets, Mike White. We worked side by side with Mike as he helped us tap into the incumbent providers fiber that was still intact between some local facilities and bring internet back into additional buildings for remote learning and basic communications for the community in the area.

Note, this is not Comcast service area and they had no gain that any major organization would normally have. It was just real people helping other real people for the good of humankind. Not a single complaint in the rain, mud and cold weather this weekend.
Due to the severity of the fire-caused damage, and the rugged and remote geography of the valley, enabling wifi and cell service required some heroic efforts and unique collaborations, including getting the local basketball team to haul solar panels and car batteries to the top of a mountain to build a solar powered relay station, and getting a box attached to an abandoned ski lift at Hoodoo Ski Area.  There was also a very close encounter with a bear.
Turner says he is simply amazed by Comcast's support.  "It's one thing to do the "right thing" knowing that there's financial benefit in the end.  It's another thing entirely to do the "right thing" with absolutely no financial gain.  That's something to be proud of."