Pictured above: Roosevelt High School Principal Charlene Williams speaking at the Portland launch of Internet Essentials in 2011.
By: Rebecca Brown, Director, Community Impact, Comcast Oregon/SW Washington
A decade. TEN years. When you think about what you've done for a decade…what's changed over a decade…it can be surprising. Rewarding. Startling.
I've been in a semblance of my current role for the past decade with Comcast, allowing me to be there when we first launched our Internet Essentials program (in 2011 at a press conference at Roosevelt High School), and be here still, overseeing the program that is now celebrating its 10th birthday.
Internet Essentials was a program Comcast created, from the ground up, to help connect the unconnected, to help bridge what was being referred to as the "digital divide"- the "haves" who had internet at home, versus the "have nots" in lower-income households. It addressed the major barriers to broadband adoption, which is about far more than just bringing Internet service into the home.
It started with a focus on families: families with children in K-12 schools that qualified for the National School Lunch program. We helped connect a few thousand families that first year as we worked with a handful of community-based organizations, and a school district, to spread the word.
Fast forward ten years to today. Now Internet Essentials is open to a wide array of households – those that qualify for one of more than a dozen public assistance programs like SNAP, WIC, Medicaid, SSI, VA pension, public housing, and still, the National School Lunch program. We've connected more than 10 million individuals nationally and 340,000 in Oregon/SW Washington since the inception of Internet Essentials a decade ago, and we've partnered with over 40 community-based organizations and several school districts to help bring the power of the Internet into the home.
"Internet Essentials has made a huge impact on the lives of the families and individuals with intellectual and developmental disabilities," said Angela Phinney, the Assistant Executive Director of The Arc of Lane County. "Many of the people The Arc serves lack access to internet due to financial constraints. Internet Essentials opens their lives to a whole new world. Having internet allows adults with disabilities to apply for jobs online, build social networks and enjoy opportunities that many of us take for granted."
Over the years, we've held numerous events and celebrations throughout our communities, supporting our youth, our veterans, and our underserved neighborhoods. The most memorable might be our day with Olympic gold medalist Jackie Joyner Kersee where we got to surprise the hundred-plus kids at Self Enhancement Inc. with their very own laptops!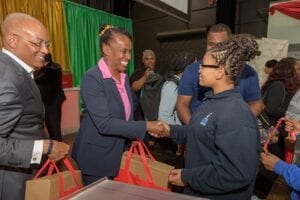 I also remember vividly a student telling me that to do her homework, she would stand outside with her parent's cell phone and find a spot in their apartment complex that had WiFi. When she got connected to Internet Essentials, and got a computer, it was life-changing for her. That hit deep. We were making an impact.
The COVID-19 crisis increased the need for digital equity, and we continued to make enhancements to the program: faster speeds, free service for the first two months after signing up, and partnering with school districts to help cover the cost of IE for households.
It's been both inspiring and rewarding to see the transformation of Internet Essentials over the years: to see the impact it's having on students and families, seniors, veterans, and those that need it most. We recognize Internet Essentials is not a solution for everyone.  There are still opportunities to build upon the program. But Internet Essentials IS creating opportunities for hundreds of thousands in our communities, and we're not stopping here. There's more to come. We're serious about our role in helping to achieve digital equity.  I can't wait to see what the next ten years will bring.