Pictured above: Todd Dallof and his crew enjoy a moment of rest after their deployment.
Todd Dallof, a construction specialist at Comcast and volunteer firefighter, just wrapped up a two-week stint fighting the nation's largest wildfire, the Bootleg Fire in southeast Oregon. He and his crew fought the fires through the night, working to contain the blaze, which, at the time of this writing has scorched 413,000 acres and has destroyed nearly 1,000 structures and vehicles.  The fire is now 53% contained.
Comcast recognizes heroes like Todd are desperately needed.
"The hardest part of this fire was working at night, in the dark," explained Todd. "We could hear trees and branches falling near us, but there was no way to really know exactly where—or how to avoid them in time."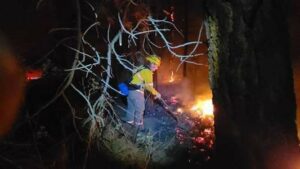 It may be one of the hardest deployments he's experienced, but it's not his first time answering the call to action. Todd has been deployed to 11 conflagrations, totaling 85 days of grueling, and often unsafe, work.  But Todd says the lack of sleep, hazardous conditions, and physical labor are all worth it—"The feeling you get when you've done something to save lives is beyond compare."
Todd leaves work to help his fellow Oregonians, always knowing his team at Comcast has his back. "I've known firefighters who have been deployed, aware that they won't have a job when they return," said Todd. "When the call to fight fire comes, all I have to do is let my team know, and they always cover for me. I'm so thankful for them and for all of Comcast."
Todd's manager, Supervisor Ryan Hansen mirrors that same gratitude.  "I take a lot of pride in saying I have a team member fighting fires when it come up as a topic of conversation," said Ryan. "We're happy to step up and help with Todd's day-to-day work when he gets the call to deploy; we're lucky to have someone so caring on our team."
"Todd is truly a hero," adds Dawnell Cole, Project Manager and one of Todd's teammates. "He exemplifies the highest levels of dedication, protecting and serving Oregon communities. His contribution, sacrifice, and hard work is inspirational."