We're excited to share that 100 small businesses in Multnomah County will receive comprehensive grant packages from Comcast RISE, our program that aims to help businesses and their communities thrive through economic growth. Grant packages will include business consultation services, educational resources, a $5,000 monetary grant, creative production, media schedule and a technology makeover. The distribution of these grants is part of our ongoing commitment to supporting the growth of all small businesses, while advancing the objectives of diversity, equity, inclusion, and community investment.
We are particularly focused on uplifting small businesses, as they make up 95% of all companies in Portland.  Nearly 600 small businesses in Multnomah County submitted applications for the Comcast RISE grants. Still recovering from pandemic-related economic downturn, many small businesses need external support to navigate the ever-changing commercial landscape. Small businesses are a dynamic element in Portland and part of what makes the city unique. SmartAssets reports that approximately 24% of Multnomah County locals have small business incomes.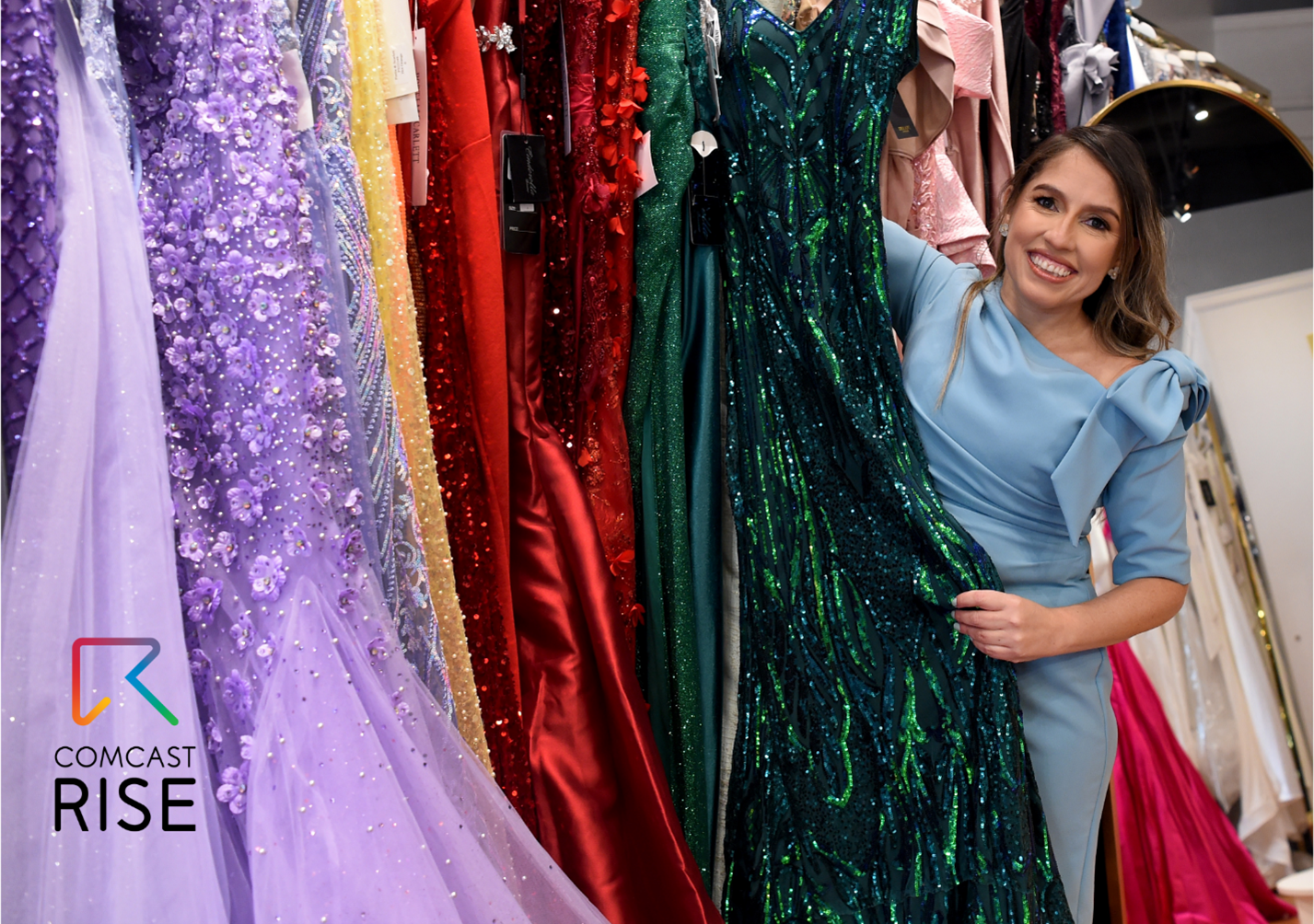 "I started Sparkly Gowns as an online store and opened the brick-and-mortar location in 2022. This grant from Comcast Rise will help me grow my business. I want to improve my online presence, increase my marketing and add technology to my retail store. I am from Colombia, and as an immigrant business owner, it makes such a difference to get support," said Fabiola Cardenas Castellanos, owner of Sparkly Gowns.
Nearly 60% of the Multnomah County small business owners who applied to Comcast RISE identify as a person of color, and 65% report being a female-owned company. This is notable, as small businesses, especially those owned by historically marginalized identities, were hit particularly hard during the pandemic. A study from the National Bureau of Economic Research noted that Black-owned small businesses were hardest hit, suffering the steepest decline (41%), followed by Hispanic and Asian American-owned small businesses. In addition, according to a study by the National Association of Women Business Owners, women-owned businesses have been growing at only half the rate of those run by men, namely because women struggle to access capital and other resources to help them succeed.
"This grant means a lot for Fisticuts Barbershop, and it comes at the perfect time. As a small-business owner, I had to be incredibly nimble to make it through the pandemic. Now I'm looking to promote and grow Fisticuts. The Comcast RISE grant gives me professional resources to tell my story," said Roberto Martinez, founder, Fisticuts Barbershop.
"I bought Pacific Pie Company in July 2021 with the hope to breathe new life into the space and the community by expanding it into a coffee shop, but over the last couple of years I've run into roadblocks for growth," said Brook Ramirez, owner of Pacific Pie Company. "The Comcast RISE grant comes at a great time and will allow me to move forward with my vision. It finally feels like all the pieces are falling into place."
With today's announcement, the following 100 selected businesses in Multnomah County will each receive grant packages:
The grant packages include:
CONSULTATION
Assessment of business and tactical planning; business to business coaching; and mentorship to advise on how to grow business.
EDUCATION RESOURCES
Educational content and resources tailored specifically for entrepreneurs.
MONETARY GRANT
$5,000 monetary grant to invest in growth and sustainability.
CREATIVE PRODUCTION & MEDIA
Production of a 30-second TV commercial, plus a media strategy consultation and a 180-day media placement schedule.
TECHNOLOGY MAKEOVER
Computer equipment and Internet, Voice and Cybersecurity services for 12 months.
Comcast RISE stands for Representation, Investment, Strength and Empowerment. It was created in November 2020 to help small businesses hit hardest by COVID-19, from bakeries and barber shops to childcare centers and cleaning services, by providing the grants needed to survive and recover. The program has evolved from helping businesses survive the pandemic to helping businesses and their communities achieve stronger economic growth.
Comcast RISE is part of Project UP, our comprehensive initiative to advance digital equity and help build a future of unlimited possibilities. Since its inception, Comcast RISE has awarded more than $125 million in monetary, marketing and technology grants to small businesses in multiple cities across the U.S.
Any small business owner can visit the Comcast RISE destination on the X1 platform featuring aggregated small business news, tips, insights, and more. Just say "Comcast RISE" into the X1 voice remote.
More information is available at www.ComcastRISE.com.