With the start of a new school year comes getting supplies together to help students have a successful year. But not every family has the resources to get those supplies. That's why Schoolhouse Supplies puts on Tools for Schools, an event to help local families get ready for the new year. Comcast employees proudly volunteered as part of Team UP, Comcast's national employee volunteer program, helping put together backpacks with school supplies and pass them out to families in the community.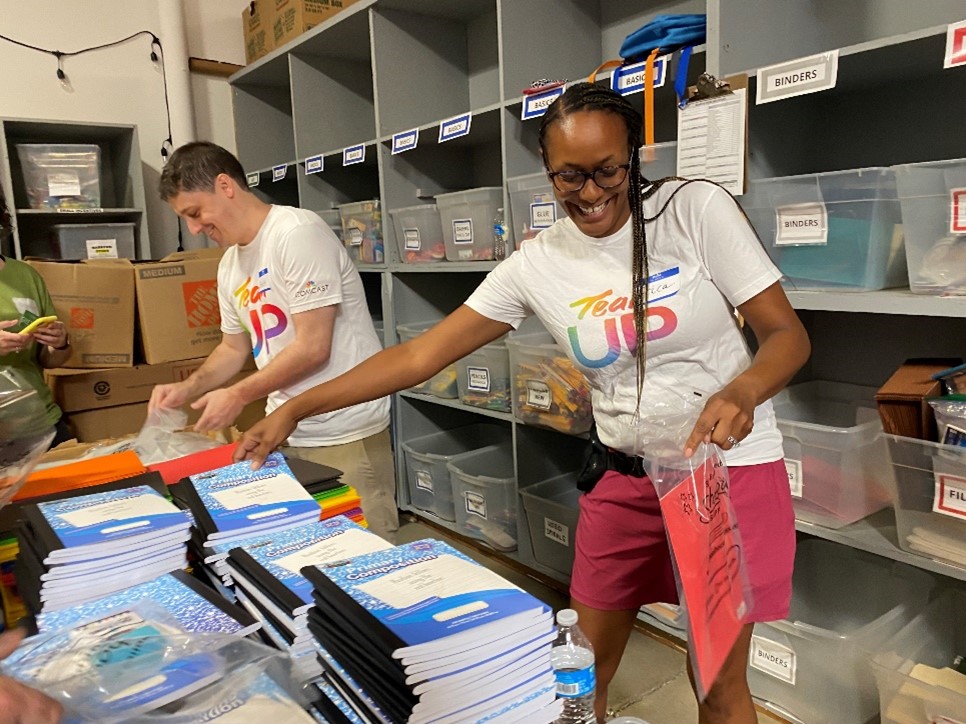 Ben Durham, Associate Vice Principal at Davis Elementary, spoke to the volunteer team and highlighted the importance of their work. He asked them a pop quiz question: "How much money does a teacher get from their school to spend on student school supplies?" The answer is a mere $100 for the entire school year, in Durham's former experience. "The Rockwood neighborhood historically has very high needs. All the kids show up carrying all the burdens of the neighborhood. Teachers do everything they can to help. But the volunteers here today are helping fill the equity gap. When you get our schools ready to go, it's going way further than the eraser. The notebook. The pencil. You're directly impacting kids' education and their lives!"
Sonja Muchen, a Team UP volunteer and senior analyst for Comcast's Pacific Northwest region, shared her experience from the day. "Growing up, I was aware of the additional support teachers and communities bring to schools through educators in my family. This is why being a part of the Tools for Schools volunteer event is very near and dear to my heart. At this event, I was able to hear firsthand the impact of providing access to supplies for both students and teachers. I look forward to continuing to support Schoolhouse Supplies and Tools for Schools."
The mission of Schoolhouse Supplies is to support public education in the Portland area by providing free school supplies to students in need. They believe that every child deserves school supplies and has the right to a quality education regardless of their family's income or racial/ethnic identity. The ultimate goal is to level the playing field so every child has access to the tools that allow them to achieve academic success and feel confident. The program delivery model achieves additional goals through community engagement and by keeping supplies out of the waste stream.
Team UP is an always-on, 365-day-a-year effort that brings Comcast teams together and provides opportunities for all employees to get more involved in their local communities. Comcast's commitment to community service has been deeply embedded in its DNA for decades. Since 2001, more than one million Comcast employees, family members, and friends across 23 countries have completed over seven million hours of service at 12,000 project sites.
Team UP aligns with Project UP – a comprehensive $1 billion initiative to advance digital equity nationwide and help build a future of unlimited possibilities. As a part of Project UP, Comcast has launched 25 Lift Zones in Oregon & SW Washington, and more than 100 in the Pacific Northwest, to assist families with limited or no internet connection in their homes. Lift Zones provide free, robust WiFi hotspots in safe spaces designed to help students and families get online, participate in distance learning, do homework, search for jobs, and access healthcare information and public assistance.
Project UP also includes Internet Essentials, the nation's largest and most comprehensive broadband adoption program. For the past 10 years, Comcast's Internet Essentials program has connected more people to the Internet and the technology they need to participate and excel in an increasingly digital world. Internet Essentials provides affordable home Internet for qualifying households ($9.95/mo. for up to 50 Mbps, or $29.95/mo. for up to 100 Mbps) — as well as low-cost computers, free WiFi hotspots, and free Internet training.
Comcast is also proud to participate in the Affordable Connectivity Program (ACP), which provides eligible households a credit of up to $30/mo. towards Internet and mobile services. For more information, visit https://www.xfinity.com/learn/internet-service/acp.