By: Marion Haynes, Vice President of External Affairs, Comcast Oregon/SW Washington
I don't know about you, but I always look forward to the Olympics – the opening ceremony, the word class competitions and getting to know the stories of the amazing athletes whose perseverance and skills are truly remarkable. And many of those Olympians live right here in the Oregon region!
On July 24, 2020 the Summer Olympics in Tokyo will commence. To build excitement for next year's games Comcast Oregon/SWWashington, KGW-TV, NBCSportsNorthwest and Comcast Business collaborated to host an event exactly one year prior to the kick-off of the Tokyo games to celebrate Oregon Olympians past, present and future.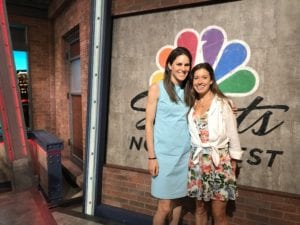 More than 100 people, including ten Olympians and two Paralympians, attended the event at the KGW studios, decorated with Japanese lanterns and cherry blossoms. The lobby featured a ping-pong table so guests could battle Sean O'Neill, a multiple medal-winning Olympic table tennis champion. Our friends from the Oregon Sports Hall of Fame brought along an Olympic torch so everyone could get up close and personal with the classic Olympic symbol. And, even though my young Olympic dreams never came to fruition, I got to hold the gold medal belonging to Wendy Boglioli of Hood River, for her win in the freestyle relay at the 1976 games in Montreal — the only gold awarded to the U.S. women's swim team during the games that year.  As you may expect, it's heavy!  (She brought her bronze medal too.)
And while mingling over sushi and sake was fun, we were there to celebrate the dedication of so many athletes in their pursuit of the pinnacle of sport success – representing the United States at the Olympics. Among the attendees at the event were competitors across the decades, from Jack Elder who competed in luge at the 1972 winter Olympics in Sapporo to Gwen Jorgensen, a gold medal-winning triathlete at the 2016 summer games in Rio de Janeiro, who hopes to have a repeat of that success in Tokyo.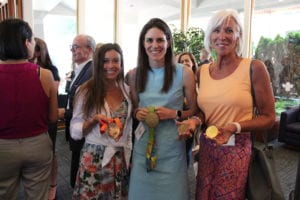 It was truly inspiring to hear the stories of these amazing athletes. Many of you, like me, may have dreamed of competing in the Olympics, but we now sadly accept that will not happen. Luckily, though, Comcast customers will have a unique viewing experience that allows them to view or stream every Olympic event live in real time, and many of the events will be in 4K this year. NBC's comprehensive Olympic coverage will let viewers feel just like they are really there.  Well, almost.