The Comcast Pacific Northwest Region's Black Employee Network teamed up with the Oregon Museum of Science & Industry (OMSI) to celebrate Martin Luther King, Jr. Day as a day of service.
In support of equitable access to science learning for students in need, Comcast Team UP employee volunteers and their families assembled 227 STEAM kits (science, technology, engineering, art, and math) for local youth served by SEI (Self Enhancement Inc). The North Portland community-based organization is a longtime partner of Comcast and has a mission to be "dedicated to guiding underserved youth to realize their full potential. Working with schools, families, and partner community organizations, SEI provides support, guidance, and opportunities to achieve personal and academic success. SEI brings hope to individual young people and enhances the quality of community life."
"There is no more rewarding effort than to provide children in the community with opportunities to learn, grow their passions, and foster ingenuity and creativity," remarked Adonis Williams, Comcast Black Employee Network (BEN) co-lead and project leader for the Comcast team. "Being able to provide these STEAM kits to be disseminated through a great organization like SEI, and exceed the number of kits expected, was truly an accomplishment and honor."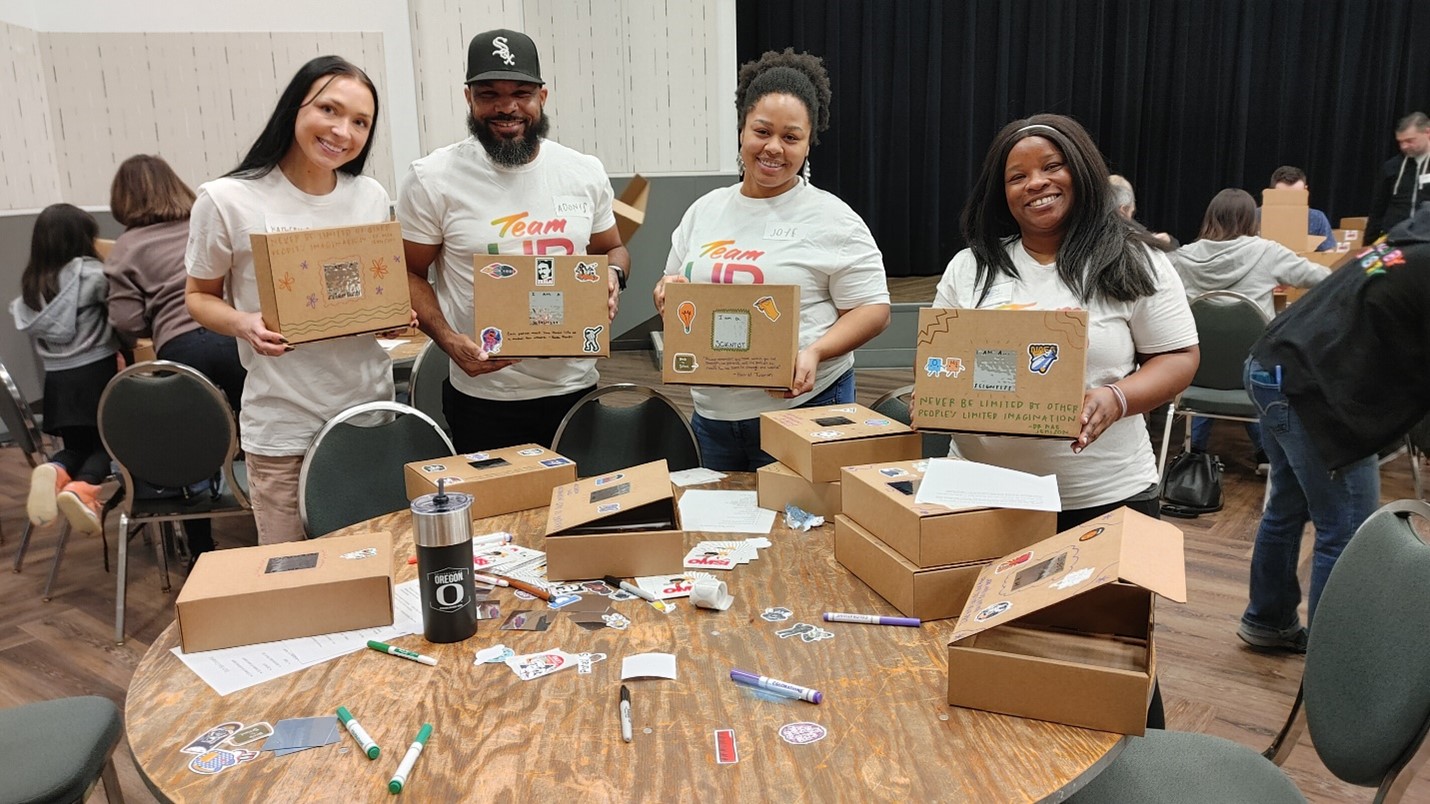 Volunteers enjoyed the creative step of decorating the multi-project kits after assembling them. Many boxes included inspirational quotes from historical Black figures, such as Dr. Mae Jemison, the first Black woman to travel into space: "Never be limited by other people's limited imaginations."
The note of working beyond limitations particularly resonated with Comcast employees, as the company is committed to positively impacting communities through Project UP: its comprehensive initiative to advance digital equity and help build a future of unlimited possibilities and is backed by a $1 billion commitment to reach tens of millions of people. It encompasses the programs and community partnerships across Comcast, NBCUniversal, and Sky that connect people to the Internet, advance economic mobility, and open doors for the next generation of innovators, entrepreneurs, storytellers, and creators.
Part of building a future of unlimited possibilities could not happen without employees volunteering through Team UP and leading projects like Williams did. "It means the world to collaborate with coworkers and their families through Team UP to show the community what we can accomplish when we come together for a great cause," said Williams. "Volunteering with BEN means you're going to be a part of an impactful effort that promotes inclusivity and equality while investing in the communities in which we live and work!"